Julielane M. Aquino
August 22, 2021

Posted by:

Admin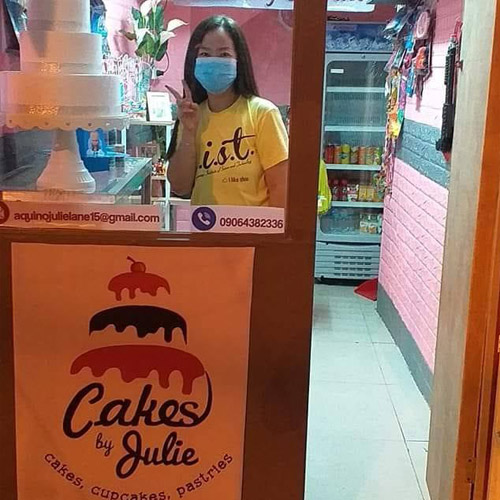 Hotel and Restaurant Services
Year Graduated: 2018-2019
I choose GIST because of the facilities and the quality of teaching that they have taught me.
---
Program Completed at GIST:
HOTEL & RESTAURANT SERVICES
Current Work Status: Self-employed
Nature of Business: Cake Shop & Party Supplies
Name of Business: Cakes By Julie
Address:  Bonie Avenue, Mandaluyong City
Business Done: Online, with Store/Office

Why did you choose GIST?
I choose GIST because of the facilities and the quality of teaching that they have taught me.
Why did you choose the program?
I can use it in my future plans.
What are the challenges you experienced while studying? (Cite at least 2)
Financial support and time management
How did you overcome it? (Explain for each situation mentioned above)
Financial –  It was really hard for me since I am married, and I have two kids already. I encountered a lot of all hardships and sufferings at that time. My husband and my dad are the persons who helped me pay my tuition fee. Though sometimes there are circumstances that are inevitable, I can't pay my tuition fee on time, but because GIST is so understanding and considerate I have surpassed it all. I am really lucky that I found GATEWAYS INSTITUTE OF SCIENCE AND TECHNOLOGY. They are not only teaching good skills and attitude towards the students but you will feel really loved and cared for in this institution. The teachers and management will show you their support no matter what situation you have. I am so grateful and honored for them.
Time management – You will just have to balance all your priorities in life, being a mom and a student at the same time, I have a responsibility to them and to my studies as well. I have known my limitation in all other things and I have set timelines for me to reach my goal.
How do you feel about overcoming the challenges?
I am really thankful that I have overcome all these challenges in my life. It made me realized that I am strong in concurring my dreams.
What is your advice to a student who wishes to take the same program as yours?
Taking Hotel and Restaurant Services course is an investment of skills, you will learn a lot from it.
Do not lose hope whatever situation you are in. Just finish what you have started. If you have passion over something, feel it in your heart, for it will tell you naturally what you have to do.
Everything doesn't stop in just paying tuition fees, you will face a lot more than that, what is important is you have faith in the lord and also believe in yourself and in your skills. You would've known that you have it unless you tried it. Don't stop reaching your goals.

How did the program help you in your current work/employment status?
It helped me a lot in every way. First is the heart of my business, my skills in doing cakes and designing it. It boost also my confidence in transacting to other/different types of people.
I have to face clients every day so I need to communicate with them properly.

What are the values you have learned in the whole experience?
Discipline, Behavior, Confidence, Integrity, professionalism, and love not only your family but also for other people.