Joy D. Banagan
August 22, 2021

Posted by:

Admin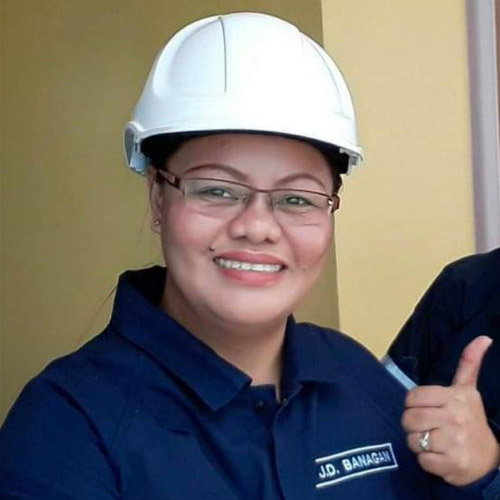 Automated Office Mgmt.
Year Graduated:
Convenient to students and reasonable tuition fee.
---
Program Completed at GIST:
AUTOMATED OFFICE MANAGEMENT (Com Secretarial)

Current Work Status: Employed
Nature of Company: Trigon Management and Industrial Corp
Address: Mandaluyong City
Nature of Business: Process Instrumentation and Control
Position: Health Safety Security and Environment Specialist / Quality and Safety Auditor
Years of Employment: 16 Years
Employee Recognition Award(s):
15 Yrs Service Awardee
Recognition of DENR as PCO
Recognition from Contractors Safety Officers of SPEX
Recognitions as Training Facilitator
Current Work Status: Self-employed
Nature of Business: Training and Consultancy
Name of Business: ALARP Solutions Corp.
Address:  Makati
Business Done: Online, with Store/Office
Why did you choose GIST?
Convenient to students and reasonable tuition fee.
Why did you choose the program?
choose the program Automated Office Management due to limited available courses during our term.
What are the challenges you experienced while studying? (Cite at least 2)
Submitting my project on time.
How did you overcome it? (Explain for each situation mentioned above)
I was able to complete my grades by reaching out to my prof and provided with an arrangement such as a special project.

How do you feel about overcoming the challenges?
I feel relieved and thankful at the same time.
What is your advice to a student who wishes to take the same program as yours?
For the students just focus and do your best. You will soon be rewarded.
How did the program help you in your current work/employment status?
The course I took has given me the advantage on computer management which on my term is already considered as a  skill which employers need. The practical exercises given to us also contributed to improving our skills which I believe helps me performed my functions.

What are the values you have learned in the whole experience?
I believe that professionalism, hard work, and having good behavior are the values that the school has inculcated on me.  I was given the opportunity to be the president of the student council which molded me into who I am today.