GISTians: On The Go In Cogeo For The Fire Safety Drill And Evacuation Exercise
November 3, 2023

Posted by:

Web Admin

Category:

Life at GIST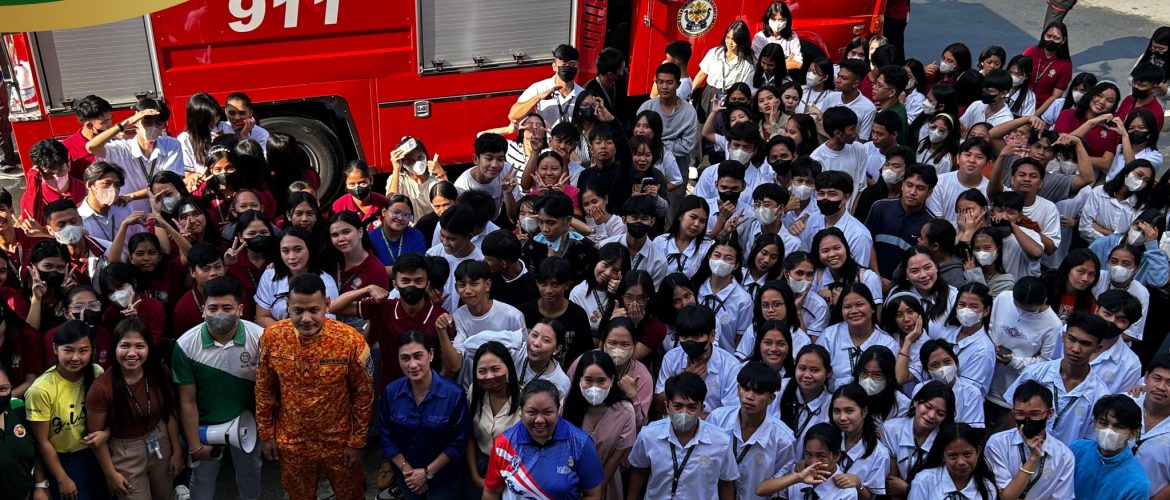 Amid the scorching heat, about 300 GIST students accompanied by their teachers along with the staff mobilized to support the conduct of the annual fire drill. Fueled with eagerness, they all willingly organized in front of GIST Cogeo, Antipolo main building in the morning of October 14. Bureau of Fire Protection Antipolo City representatives FO1 Julian and FO1 Maniwang who lead the conduct of the drill, shared no-frills, practical tips on how to respond and evacuate during emergencies such as fire and earthquakes.
The old cliché, "Knowledge is power", originally attributed to the famous philosopher Francis Bacon, seems to be very fitting for this useful exercise. It's expanded definition by the former US President Thomas Jefferson, "Knowledge also provides safety and happiness" becomes even more germane. In the context of this fire drill, sharing one's knowledge can create powerful weapons that will help save the lives of many. As observed by the Grade 12 ABM student Rian Llex Balane, "It's my first time to join a fire drill. I feel safe at GIST because the drill helps us understand the importance of safety procedures and it teaches us how to respond calmly and efficiently in emergency situations. This experience can reduce our anxiety and fear related to fire emergencies, fostering a sense of security within our school environment."
The fire drill which lasted for more than two hours, ended on a high note and was fullyappreciated by everyone who joined. Ms. Leticia Banes, School Principal and Ms. Mary Anne Coper, Assistant Branch Head both displayed their positive reception throughout the exercise. "Conducting fire drills in school offers several advantages. It helps familiarize the students, teachers, and staff with emergency evacuation procedure, ensuring a swift and orderly response in case of a real fire. ", Ms. Coper said.
Ms. Banes also shared her own thoughts and added, "Indeed, the fire drill was successful, it contributes to a heightened awareness of safety protocols, reducing panic and potential injuries during an actual emergency. Fire drills provide an opportunity to assess the effectiveness of evacuation plans and make necessary improvements to enhance the overall safety in GIST".
#GIST_TheSchoolwithaHeart
You can follow and subscribe to GIST through the school's official social media accounts:
𝗙𝗮𝗰𝗲𝗯𝗼𝗼𝗸: https://facebook.com/gisteduph
𝗜𝗻𝘀𝘁𝗮𝗴𝗿𝗮𝗺: https://instagram.com/gisteduph
𝗫 (𝗳𝗼𝗿𝗺𝗲𝗿𝗹𝘆 𝗧𝘄𝗶𝘁𝘁𝗲𝗿): https://x.com/gisteduph
𝗧𝗶𝗸𝗧𝗼𝗸: https://tiktok.com/@gisteduph
𝗬𝗼𝘂𝗧𝘂𝗯𝗲: https://youtube.com/@gist_edu_ph